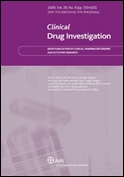 Clinical Drug Investigation Editor-in-Chief: Jasbir Singh, MBChB, MS, PG Cert (PH) ISSN: 1173-2563 Online ISSN: 1179-1918 Frequency: 12 issues a year Impact Factor: 1.822 Subscribe: Subscribe
Published by Adis International Limited (now part of Wolters Kluwer Health). ISSN: 1173-2563.

Clinical Drug Investigation gives you rapid access to the best designed, peer reviewed clinical and pharmacoeconomic studies worldwide, allowing you to keep up to date with the latest original research in this exciting area. The Journal's aim is rapid publication of original research covering all phases of clinical drug development and therapeutic use of drugs. This includes clinical trials, outcomes research, clinical pharmacoeconomic studies, pharmacoepidemiology studies with a strong link to optimum prescribing practice for a drug or group of drugs, clinical pharmacodynamic and clinical pharmacokinetic studies with a strong link to clinical practice and, in some instances, pharmacodynamic or pharmacokinetic studies in healthy volunteers, but in which some established or purported implications for clinical prescribing are discussed. In addition, short communications and case study reports that meet these criteria are also encouraged, as are letters to the editor.